About
The Global Church Learning Center houses more than 150 interactive training curriculum courses by renowned Christian leaders from every major world region.
The Global Church Network is offering this global church training in four levels of membership: Core Membership, Unlimited Membership, Unlimited Team Membership and Advance Studies Membership. In addition, a limited number of Global Church Scholarships are available. A qualifying pastor/leader must apply for the scholarship and, if approved, will be notified by email.
The Global Objectives are time-tested in every world region and bring focus to each training session. A pastor/leader will discover that each training course has been prepared with various cultures in mind, and that each segment is both stimulating and rewarding.
The Top Forty courses are considered "core," as high-priority topics essential to introducing an area of global training or as a refresher study. The studies are sequenced for progression in level of difficulty but are without prerequisites and can be accessed on an "as needed" basis. The five areas of global knowledge are: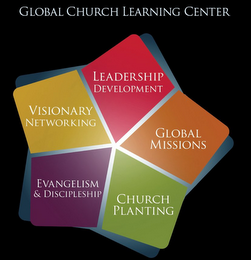 Leadership Development
Global Missions
Church Multiplication
Evangelism & Discipleship
Visionary Networking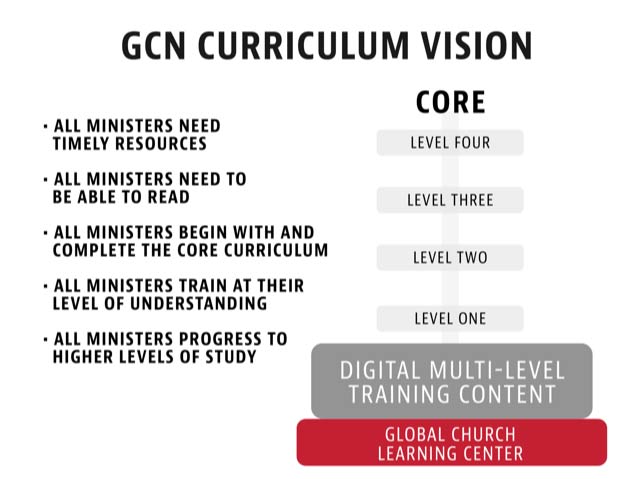 The core and elective courses in each of these areas are geared towards church planters and pastors/leaders who want to grow in their personal and professional ministries. At the same time, Global Church Network does not compete with Bible Schools, Institutes or Seminaries, and GCLC training does not compete with or replace ordination of men and women for ministry.
The following two illustrations demonstrate the collective power of the Top Forty Core Courses, as well as the overall process of progression of the Global Church Learning Center. Each of these dynamic courses has been developed to comprise fifteen sessions of six minutes each. This approach allows a pastor/leader to learn at the highest possible level and at his/her own rate, without feeling pressured to finish each course as quickly as possible. It's called "Just-in-Time Training!"
Rather than teaching everything that there is to know on a particular topic, each global teacher has presented the very essence of the topic's most important concepts. He/she has provided wisdom, knowledge and application from life experiences and from personal study intended to provide dynamic outcomes for pastors everywhere.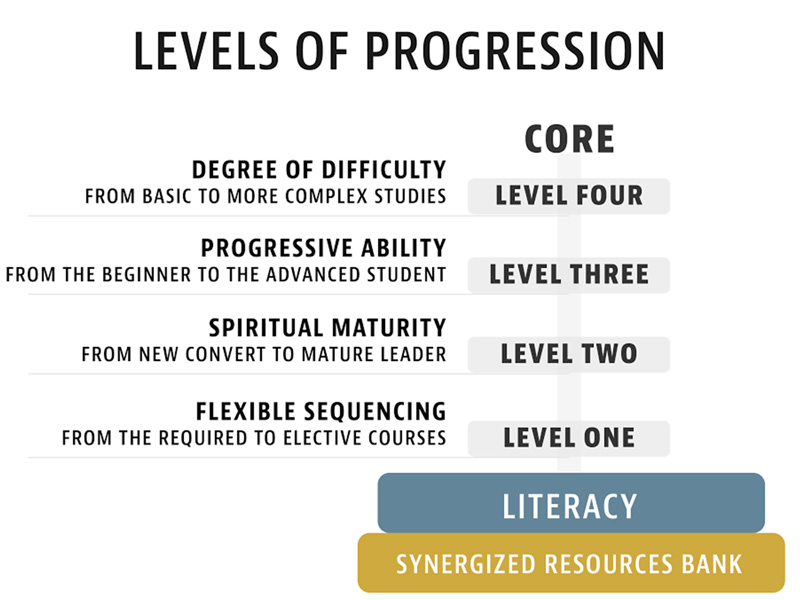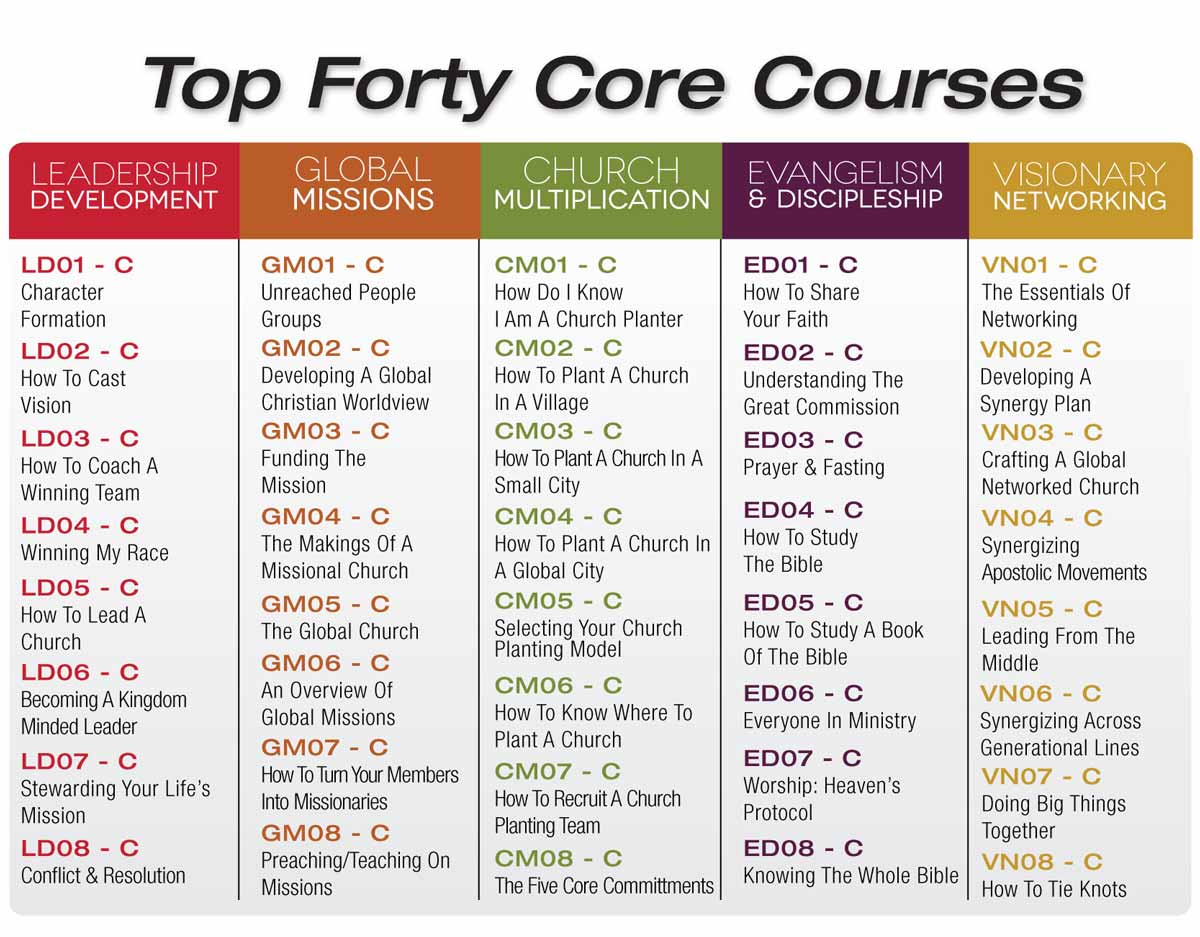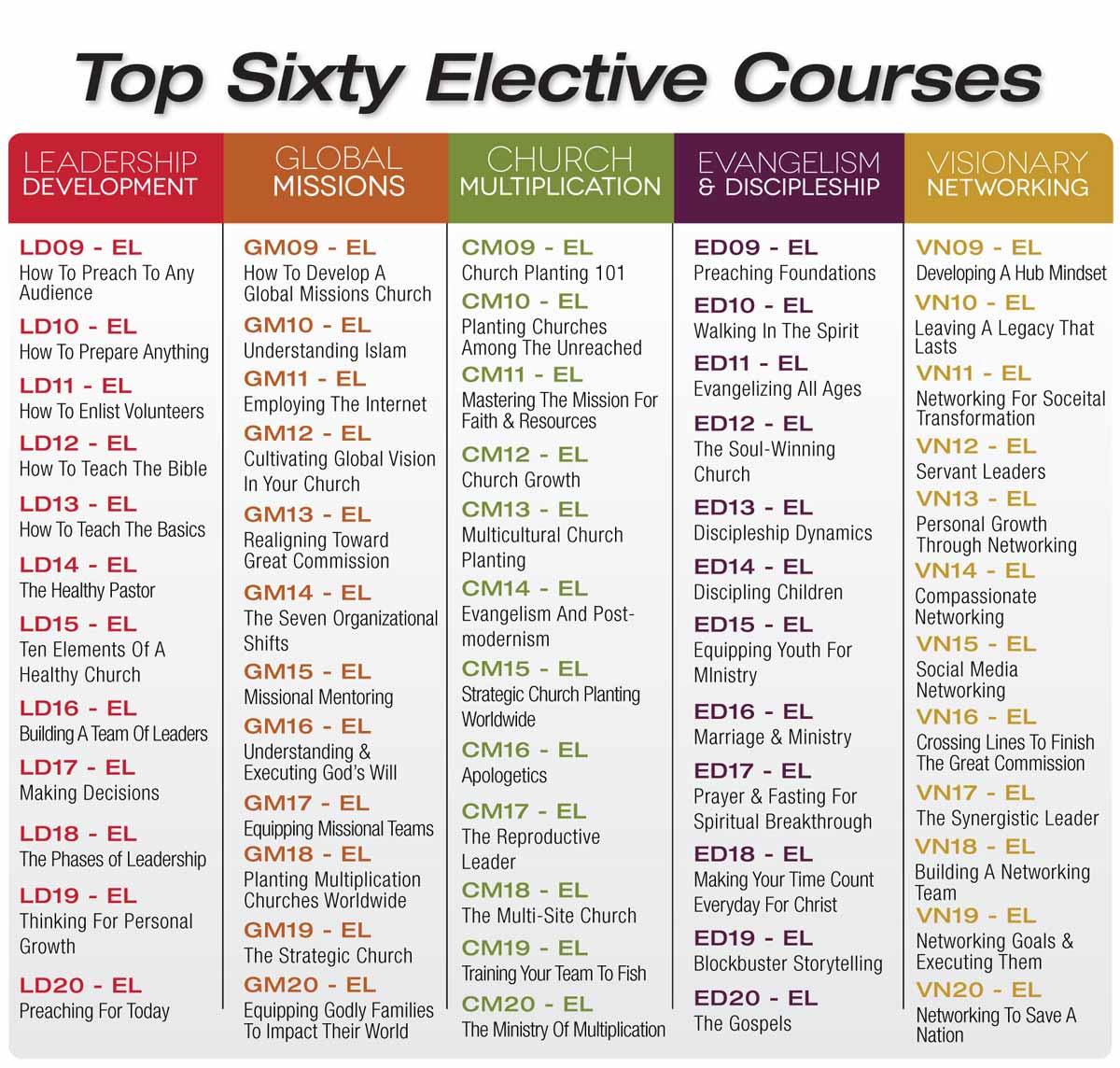 In addition to the Top Forty Core Courses, there are 110 more Global Church Learning Center electives. These 110 electives are designed with the same cutting-edge methodology but continue to move the pastor/leader through higher levels of knowledge and application for powerful results.  The Global Church Learning Center also includes the Global Church Library, designed to augment these phenomenal courses and to become the international bank of the finest Christian resources in the world.
All GCLC courses are tailored to be visually attractive, doctrinally vital, interactively engaging and able to be distributed through personal downloads and Internet streaming. The philosophy behind the Global Church Learning Center is that the Church has moved from the "West going to the Rest" to the "Best worldwide going to the Rest worldwide." Each pastor/leader and team will discover that this global/local teaching has never been offered before in the Body of Christ!